Christian Churches
---
Doinoura Church 土井ノ浦教会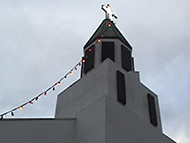 Originally built in 1892, Doinoura Church has undergone multiple reconstructions. The outside appears modern and was last altered in 1997. However, the interior of the church has some of the older parts still intact, including those from the relocated Old Oso Church. Near the church there are some stone monuments and Christ Memorial Hall.
Inoura Church 猪ノ浦教会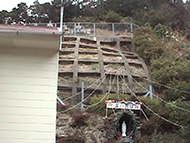 Located on Nakadori Island's western peninsula, Inoura Church is one of the more recently built churches. It was constructed in 1947, and last renovated in 1989. In 1975, it was established as the mission station of the Matenoura Parish. This church has received the blessing of Cardinal Satowaki.
Kiri Church 桐教会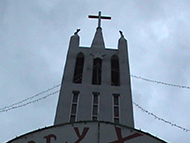 Kiri Church is visible from afar, since it has one of the highest steeples of any on the island. It is also one of the more adorned churches during the Christmas season, with it's white banner and rope lights fastened high on the steeple tower.
-View Photos
Nakanoura Church 中ノ浦教会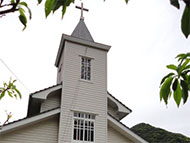 Located near the ocean waters surrounding Wakamatsu, Nakanoura Church, with it's stained-glass windows, is considered to have a very quaint beauty. From the opposite shore, the reflection of the church can be seen on the calm water. It was established in 1925, and consecrated by Reverend Yajyu Osaki. During the Kansei period, Christians migrated to the area from Kurosaki, Sotome. The local Kiri district was considered to be sacred because it was the birthplace of missionary Gasparu Yosaku. As a result, there were Goto Kuzure persecutions at the start of the Meiji Era. Near the church there is a statue of Mary and flowers of many colors.
-View Photos
Shinto Shrines
---
Kaidou (Whale Bone) Shrine 海童神社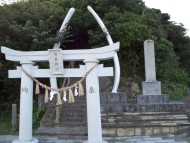 The Kaidou Shrine, also known as the "Whale Bone Shrine," is located in Arikawa, very close to the port. The entrance is notable for the two whale bones that mirror the shrine's first tori gate. The shrine is situated near the top of the small mountain and is surrounded by dense foliage. Some festivals are held at this site.
-View Photos
Yamagami Shrine 山神神社
Yamagami Shrine is a small shrine located towards the southern end of Nakadori Island in Naraou. It is atop a hill, overlooking the town.
-View Photos
Oota Public Shrine 志自岐黒神社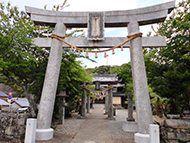 It is a shrine located in the village of Oota. It has impressive wood detail and stone deer statues. Additionally, it has a nice view of the sea port.
-View Photos
Sofukun Shrine 祖父君神社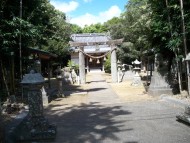 A shrine located in Urakuwa, near Kamigoto Highschool. In the fall, a ceremony is held here to promote a bountiful harvest and also for the coming of age of young boys and girls.
-View Photos
Buddhist Temples
---
Gokurakuji Temple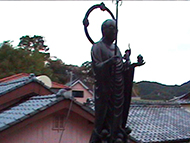 Gokurakuji Temple is a Buddhist temple of the Jodo-sect. At this temple is a statue of Amida Nyorai. The bronze statue is believed to have come from Korea around the 7th century. In 1981, it was designated as a national cultural property.
-View Photos